Disneyland® Hotel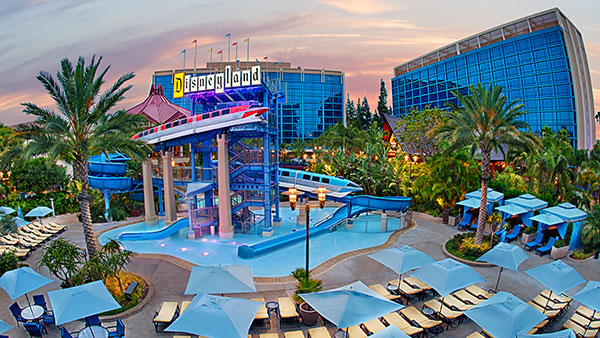 The Disneyland® Hotel features modern accommodations with a magical touch, plus three restaurants including the famed Trader Sam's Tiki Bar, two towering monorail waterslides (as well as two tranquil pools), and a fitness center.
The hotel is located just steps from the Downtown Disney® District, which features restaurants, shops, and entertainment. Both Disneyland® and Disney California Adventure® Park are just a short stroll away!
Disneyland® Hotel
1150 West Magic Way
Anaheim, California 92802
(714) 778-6600
Room rate
$227.00 per night, plus applicable taxes
Overnight guests can self-park for $18/night or valet-park for $28/night.
The reservation block will be available until September 30, 2022 — don't miss out!
Location
Anaheim, California
First started by German farmers in 1857 and founded as a city in 1870, Anaheim is now the tenth-largest city in California. Located just outside of Los Angeles, Anaheim is part of the larger Los Angeles-Long Beach-Santa Anna metropolitan area. Anaheim is a city built on imagination.
Local attractions:
Travel
Getting to Anaheim
With four airports in Orange County, flying into Anaheim could not be any easier.
Getting around Anaheim
Anaheim Regional Transportation Intermodal Center, better known as the ARTIC, is the local transportation hub that provides rail, bus, taxi, and other services for commuters, visitors, and leisure travelers.
PLEASE NOTE: ASCE is not working with a housing company. Should you be contacted by a company stating that they are a housing company for ASCE or asking you to make your reservation - be aware that they have not been authorized to contact ASCE attendees and are not affiliated or endorsed by ASCE. If contacted by an unauthorized broker, please notify us. Booking through an unauthorized service provider could result in unconfirmed bookings. If this occurs, the hotel may have no obligation to provide you with the accommodations you were expecting. Book your hotel room directly through ASCE's reservation link above.