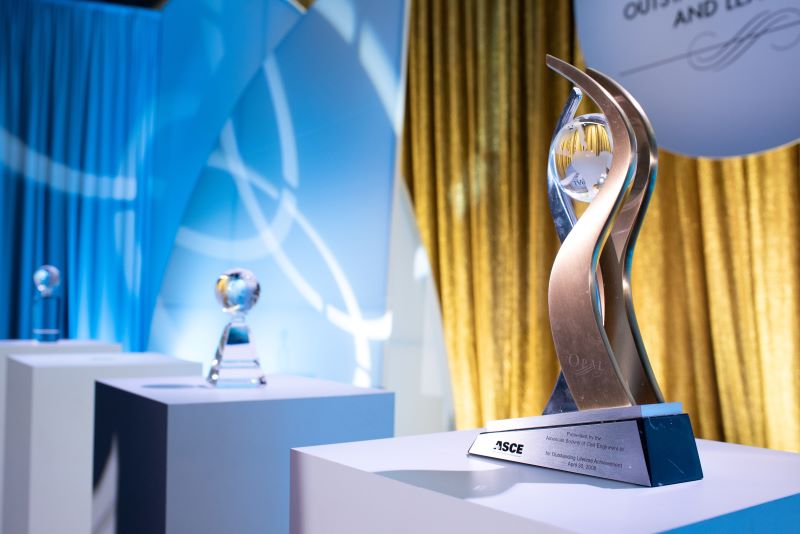 OPAL Awards
The OPAL Awards Gala honors outstanding civil engineering leaders whose lifetime accomplishments contributed to the creation of thriving businesses and the local economies they serve.
The OPAL showcase traditionally draws hundreds of civil engineers - practitioners, educators, military engineers, and researchers. On this night the Society presents, in addition to the OCEA award, five individual OPAL leadership awards in the categories of construction, design, education, government, and management. This is truly a night in which we "celebrate civil engineering's best"!
In 2021, the OPAL Awards Gala moved to October and was held during the ASCE Convention. Plan to attend the OPAL Awards Gala, Oct. 25, 2022 in Anaheim; the opening reception starts at 6:30 p.m. and continues into the evening. 
Tickets:  EB $295 | ADV $345 | ONS $395
To purchase your OPAL Awards Gala tickets, add them to your cart during the registration process.
Pricing key:
EB = Early bird rate (until Sept. 7, 2022)
ADV = Rate (Sept. 8 - Oct. 6, 2022)
ONS = On-site rate (begins Oct. 7, 2022)
Information on the OPAL Awards Gala, including registering for OPAL if you are not attending Convention and the 2021 OPAL Awards Gala can be found on ASCE.org.