OPAL Awards Gala
Join us for the LIVE announcement of the 2021 OCEA winner!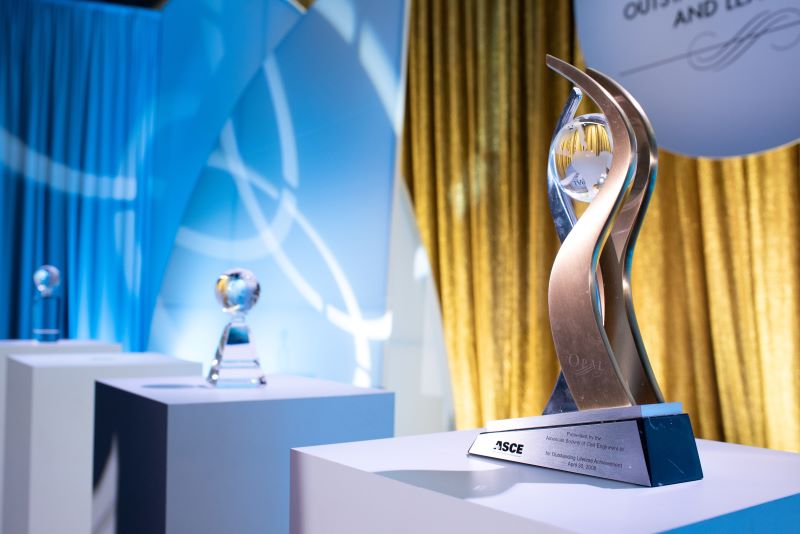 Plan to attend the OPAL Awards Gala, Oct. 8 from 6:00 to 7:15 p.m. EDT. This virtual event is included with your ASCE 2021 Convention registration.
OUTSTANDING CIVIL ENGINEERING ACHIEVEMENT AWARDS
The OCEA awards have recognized exemplary civil engineering projects every year since 1960. Join us during the ASCE 2021 Convention to celebrate nine stellar projects selected as 2021 Honor Awards and witness the live announcement of this year's overall winner.
We are proud to recognize these projects in 2021:
Union Pacific Railroad, A Moving Mud Spring Threatens Critical Infrastructure - Imperial County, California
Chase Center at Thrive City - San Francisco
Coastal Wall at Northwestern University Ryan Fieldhouse and Walter Athletics Center - Evanston, Illinois
Governor Mario M. Cuomo Bridge - Westchester and Rockland counties, New York
Lake Mead Intake No. 3 Low Lake Level Pumping Station & Discharge Aqueducts - Boulder City, Nevada
Metro North Railroad Bridge Over Atlantic Street - Stamford, Connecticut
Moscone Convention Center Expansion - San Francisco
Niagara Falls State Park Transformation Initiative - Niagara Falls, New York
Permanent Canal Closures and Pumps (PCCP) - New Orleans
2021 OPAL AWARD WINNERS
The OPAL awards honor outstanding civil engineering leaders whose lifetime accomplishments contributed in one of five categories.
We are proud to recognize these honorees in 2021:
Construction: Jesus M. de la Garza, Ph.D., Dist.M.ASCE, NAC
Design: James L. Barnard, Ph.D., P.E., BCEE, Dist.M.ASCE
Education: Vijay P. Singh, D.Sc., P.E., Hon.D.AWRE, F.EWRI, Dist.M.ASCE
Government: Sreenivas Alampalli, Ph.D., P.E., F.SEI, F.ASCE
Management: Terry F. Neimeyer, P.E., ENV SP, BCEE, F.ASCE